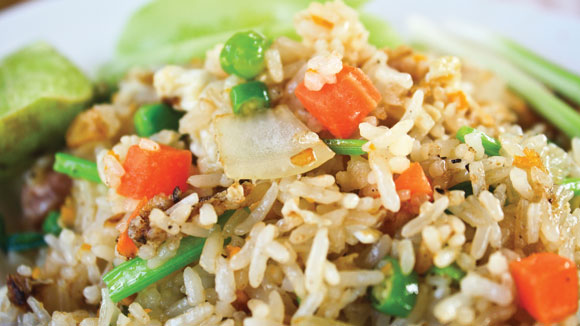 CHINESE FRIED RICE RECIPE
Eaten all over Asia, this versatile preparation is a staple food. It is usually made with leftover vegetables and meat and seasoned with soy sauce, garlic, ginger and very often egg.
Recipe serves:

4

Preparation time

15 minutes

Cooking time

20 minutes
Ingredients
300 g boiled rice
1/2 packet of Knorr® Easy to Cook Chinese noodles/Fried Rice
1 cup mixed vegetables, (cabbage, capsicum, onion, carrot) finely chopped
½ cup spring onion
1 tbsp oil
Method
Stir-fry the mixed vegetables in a frying pan/ skillet with 1 tablespoon of oil until they are cooked.
Mix ½ a packet of Knorr® Easy to Cook Chinese Noodles/Fried Rice with ½ a cup of water to make the sauce. Cook the sauce in a wok or frying pan until thickened.
Combine the sauce, boiled rice and cooked mixed vegetables, stirring until well mixed. Garnish with spring onion.
Chef's Tip

For a non-vegetarian fried rice, add julienned chicken, beef, pork or shrimp. While stir-frying your meat and/ or vegetables, you can add some freshly cut ginger or garlic to the wok.
Recipes from the same Knorr product